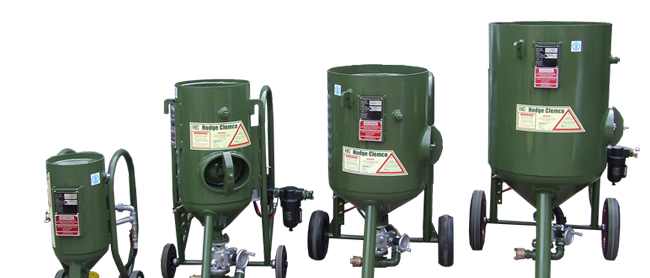 In Hodge Clemco's range of Contractor Blast Machines, we supply the most technically advanced blast machines on the market, offering unrivalled performance. The Contractor Blast Machine has become the industry standard for performance, mobility, safety and quality of construction.

Unique features of these high performance machines include:

• Roll bar handles protecting operator and valve work
• Low centre of gravity for easy movement
• Large bore pipework for efficient air flow
• Large access plate for easy maintenance

The Contractor Blast Machine is available in 4 sizes – 1028 Mighty Mite, 1440, 2040 and 2452 – with a choice of metering valve to suit all abrasives and applications. Our after sales support team and maintenance engineers are trained on the full range and respectively, are pleased to provide technical assistance and carry out servicing work. We carry a range of associated blasting spares and accessories including; nozzles, blast hose, holders, couplings and deadman handles.

Personal Protective Equipment is a vital component of a successful abrasive blasting system. Endeavouring to offer the complete blasting solution, we provide the necessary range of protective headgear and blast suits. The Health & Safety Executive approved Apollo 60 CE Airfed Blasting Helmet is the ultimate in safety and comfort. It features a double shell construction that provides air circulation around the operators head. Noise levels inside the helmet are kept low, thanks to the exclusive air distribution. Air is brought into the top of the helmet, passes over the entire head and is filtered out through a knitted neck band that gently seals against the operators neck. Beyond the Hodge Clemco Apollo 60 CE, we provide affordable alternatives in the BlueMax and Shogun Shotblast Helmets.
To find out more about Abrasive blasting equipment products for hire, you can use our product hire form. Alternatively you can visit Spray Direct to buy products of this type.