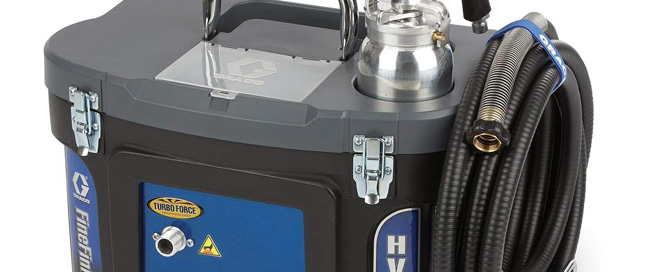 We stock a comprehensive range of HVLP spray systems from key manufacturers Graco and Apollo. There are models ideal for DIY spray painting right through to higher performance professional systems for increased productivity and durability.

Unlike conventional airspray, a HVLP Spray system utilises a lightweight air turbine rather than a large air compressor to supply the air to atomise the paint, and as a result, is considerably more portable. With HVLP Spray Guns the air is supplied at a much lower pressure, which means that the amount of overspray is substantially reduced as it is propelled toward the object you are painting, at a much lower speed than with conventional airspray. To compensate for the lower pressure (LP) these systems supply a higher volume (HV) of air to atomise the paint. HVLP turbine systems can be used with a wide range of decorative and industrial coatings including woodstains, lacquers and gloss - perfect for an automotive spray gun. The smaller models are also very popular as spray tan applicators bought by end users and professional tanning salons.

There is a wealth of HVLP spray guns on the market, but which should you choose? In essence the greater the number of stages the more powerful the turbine, so that a higher pressure & volume can delivered. For occasional or DIY use, consider a 2 stage HVLP paint spray system such as the Apollo Spray-mate or the more robust Spraymaster 1200-2S. For a more regular and faster application, a 3 stage HVLP paint sprayer will suffice - consider the Apollo Pro-Spray 1500-3S or the Graco HVLP TurboForce 7. However, if you're looking for a regular on site workhorse, capable of atomising higher viscosity materials, or you want the fastest possible application, then choose a 4 or 5 stage HVLP system that develops higher output pressure and volume - for uses such as an auto spray gun. We've selected the Graco HVLP TurboForce 9.0 and TurboForce 9.5 as the systems we feel best match performance against price in this higher end of the HVLP paint sprayers spectrum.
To find out more about HVLP High Volume Low Pressure products for hire, you can use our product hire form. Alternatively you can visit Spray Direct to buy products of this type.