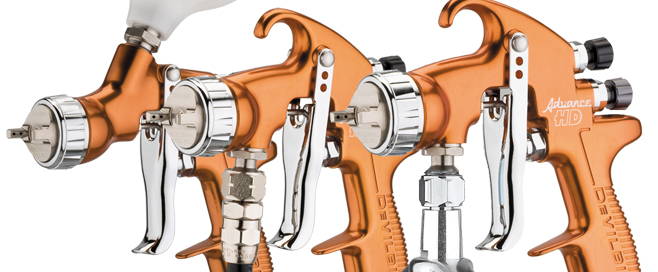 An exercise in ergonomics and innovative design, DeVilbiss' range of industrial finishing manual air spray guns set the standard. Pressure, Suction and Gravity feed, the Advance HD (High Demand) family utilise a wide range of "Trans-Tech" compliant, HVLP or conventional air caps to provide outstanding coatings' atomisation of all types of solvent, waterborne, high solids and 2K materials. The Advance HD also has an extensive selection of fluid tips to accommodate the widest range of materials including; high solids, solvent/waterborne paints, lacquers, stains, glaze, base and clear coats, twin pack and many other finishing materials. Applying heavily bodied thixotropic materials? We have the perfect solution, the Advance HD Gravity Pressure Assisted Gun. The addition of a small amount of compressed air into the gravity cup boosts flow and allows the gun to be used with even higher viscosity coatings.
DeVilbiss' comprehensive range extends through to the PRi HD – a compliant gravity feed spray gun specifically designed for the application of modern primers, surfacers and fillers – and the SRi HD – the ultimate piece of equipment for top quality fine finishing including spot repairs, shading and stencilling. Further DeVilbiss manual ranges we supply and support include the GFG HD Gravity, the GTI HD Compliant Range, the JGA HD Range and the FLG-5.
In Graco's lightweight, ergonomic Finex range we offer alternative, affordable pressure and gravity feed guns suitable for production line and ad hoc jobs alike. Graco's offering continues through their AirPro manual and automatic air guns for automotive, general metal, wood, waterborne, high wear and adhesive applications – proven to deliver exceptional spray performance.
Arguably the market leading automatic spray gun for general industrial applications, would have to be the DeVilbiss' Cobra range. The Cobra 1 is purpose made to provide a long working life in tough working conditions. The gun uses the very latest advances in atomising technology to provide users with a cost effective air atomising product with many unique, patented features and benefits. The Cobra 2 is a highly sophisticated automatic gun that can be detached from its mounting block in a few seconds via the easy thumb release mechanism, for fast and easy maintenance with minimal disruption to the production line.
We supply and support further ranges of manual and automatic air spray guns from other leading manufacturers including Iwata, Kremlin and Wagner.
To find out more about our products, you can use our product hire form. Alternatively you can visit www.spraydirect.co.uk to buy products of this type.