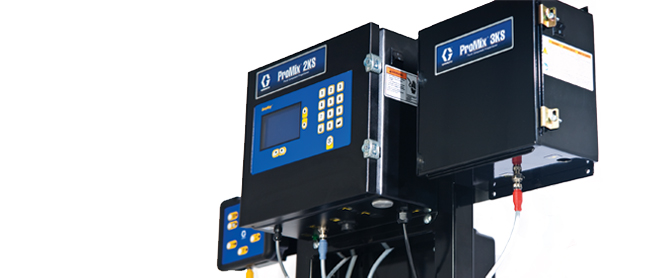 If you're currently hand mixing two-component paints, you may be spending more than you should on wasted material, extra labour and off-ratio re-work costs.

Through Graco we promote several solutions, the first being the M2K; an entry level system designed to eliminate hand mixing. The fixed ratio proportioner ensures an accurate mix to improve finish quality and reduce material waste, flush and clean up time.

We also supply the Graco ProMix range, which includes the ProMix 2KE. Its key features include a user-friendly controller, advanced potlife controls and dynamic dosing capabilities – it dispenses material A, monitors fluid flow, and dispenses material B in doses to cause the mixture to stay on ratio. In delivering these substantial cost and material savings, the ProMix 2KE proportioning system provides a quick return on investment. The highest-specification, metered version of the ProMix 2KE can handle a maximum of three colours with a single catalyst.

Also within the ProMix range is the 2KS which affords the use of up to 30 colours and 4 catalysts. The system offers precise and reliable electronic proportioning for a broad range of solvent-borne, waterborne and acid catalysed materials. A 3KS upgrade is available for precision mixing of three component materials, accurately reducing your material to the correct spray viscosity as conditions change.

The ProMix PD2K is Graco's latest electronic proportioner and has been specifically designed to reduce waste. The mixing point has been moved closer to the gun, reducing solvent use and mixed material waste by up to 80% compared to other electronic proportioners. This is particularly advantageous for those who have multiple daily colour changes and less time and money to dispose of hazardous waste.



Also within our plural component range are the Kremlin CYCLOMIX™ proportioners which similarly allow the user to dose and mix two component paints. The Cyclomix utilises a static mixer to ensure perfect mixing even if both components have different viscosities.