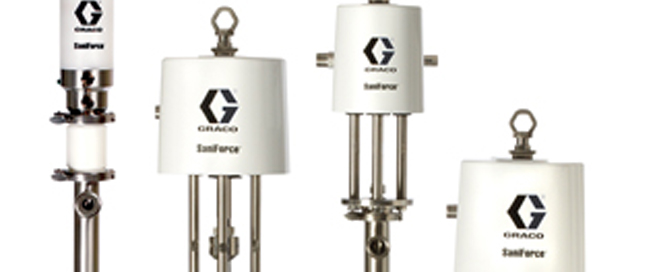 Graco's powerful line of SaniForce piston pumps move extremely difficult materials including fruit juice concentrates, cream candy fillings, ice cream variegates and cosmetics.

They have pressure ratios up to 12:1 and are ideal for low to medium viscosity materials. We offer a solution designed to save money by increasing efficiency for common applications including:

• Fluid transfer and supply of low to medium viscosity fluids
• Food-related applications
• Cosmetic and pharmaceutical applications

All SaniForce piston pumps have quick knockdown lowers for fast and easy cleaning and are made with 300 series stainless steel for long-lasting durability. Further features, including the easily removable FDA-compliant Kydex shroud which affords effortless cleaning access to the modular air valve, offer improved serviceability, increased efficiency and a lower cost of ownership.