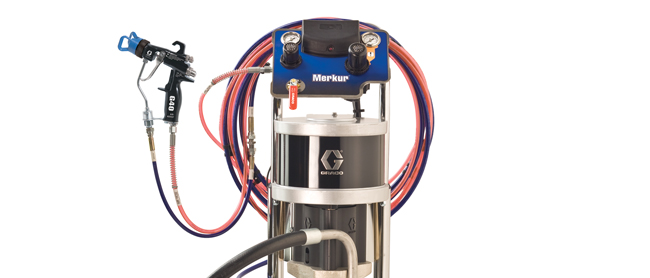 Product description
Air assisted airless spray painting is the ideal choice if you need a fine finish but quick application. Air assisted airless painting systems, also known as AAA, Airmix and Aircoat, provide substantially faster application rates and higher material transfer than air spray, but with a superior finish to airless. It offers the best of both worlds, and is suitable for a wide range of applications from furniture finishing to painting bridges.
Air assisted airless paint sprayers utilise a high pressure fluid delivery by a pump, however the pressure is 20-40% lower than that used for airless spraying. An aircap adds a small amount of air to the paint to aid in completing the pattern formation. This results in a more efficient and economical paint spraying process, and less wear on the guns because of the lower fluid pressure.
At Hi-Tec Spray, we are committed to offering our customers a central source of the world's leading paint spray systems and offer a range of air assisted airless equipment to suit your needs.
The Graco Merkur range of high performance air assisted airless sprayers deliver a consistent, high quality finish ideal for the most demanding applications. The innovative G40 air-assisted airless spray gun has repeatedly delivered improved productivity, reduced material waste, lowered emissions and a lower cost of ownership.The 13 different models of Graco Merkur come with a choice of four air motor sizes and wall and trolley mounted variants to suit your set up. For situations where a standalone compressed air supply is not available, the Graco FinishPro 395 sprayer with its built in compressor and electric powered airless spray pump is ideal.
Kremlin Rexson are another respected manufacturer of air assisted airless equipment - their range of Airmix pumps can be tailored to fit your needs thanks to multiple configuration options. There are 10 different models to choose from including the popular EOS range and the latest generation of Kremlin's family of Airmix applicators, the Xcite spray gun.
Contact your local sales representative to find out more about our air assisted airless equipment range. Or if you're interested in hiring, please complete the adjacent hire form and a representative will contact you shortly.
Materials
Air assisted airless spray painting is an efficient and economical way to coat a wide range of surfaces. Air assisted airless spray pumps can be used with a multitude of materials and enable you to achieve a superior finish to airless, without needing a standalone compressed air supply.
Water-Based Paint
Water-based paint is often referred to as emulsion and it's traditionally used for interior walls and ceilings. Advancements in paint technology mean that water-based paints are now available for all surfaces, for both interior and exterior use. 'Water-based' means that water is used as the vehicle for the pigment. It's a more environmentally friendly alternative to solvent-based paints.
Solvent-Based Paint
Solvent-based paints have the pigment carried by a solvent which evaporates to leave the paint adhered to the surface being coated. It's used when a tough, durable finish is needed for interior and exterior timber, masonry and furniture. The use of solvent-based paints had reduced in recent years because they contain toxic chemicals and release volatile organic compounds into the air.
Enamels
Enamel coatings are used for surfaces that need to be hardwearing and resist variations in temperature. Enamel air dries to give a hard, usually glossy, finish. It can be used on various surfaces including concrete, stairs, engines, car brakes and barbecues.
Waterborne
Waterborne coatings are made from synthetic resins and pigments that are kept dispersed in water. They may also contain small amounts of coalescing solvents that enable the resin particles to fuse together as the water evaporates, and the paint dries, to create a continuous coating.
Solventborne
Solventborne is the traditional choice in the coatings and ink industry. This type of paint is used in a variety of decorative and industrial applications including road marking, packaging coatings and industrial topcoats. Solventborne coatings are being used less, in favour of more environmentally friendly alternatives, however there are still applications where solventborne coatings are required for performance or have been demonstrated to be sustainable.
High Solids
High solids are paints that are made up of at least 65% solid components (binders, pigments and additives) mixed with a solvent. High solids are three to four times thicker than conventional solventborne paints, which means less coats are required to achieve the same thickness of film.
Single Component
Single component paints are those that do not require a hardener, catalyst or activator; they dry in the air. These products are usually ready to spray, although some may need to be diluted with a thinner to flow through the spray gun properly.
Lacquers
Lacquer is a coating that dries by solvent evaporation, that produces a hard and durable finish. Lacquer cures by drying and does not chemically bond to the surface. The solvent evaporates leaving the resin behind. Water-based lacquers can also be found and are being used more frequently because they are much less toxic.
Acid Catalyst
Acid catalyst is a type of two-component lacquer that is used as a quick drying wood finish on furniture and fittings. It is ideal for areas that need a tough, hard-wearing finish, such as table tops and doors.
UV Coating
UV coatings are cured by ultraviolet radiation. They can be used to give particular properties to surfaces such as glare reduction, scratch resistance, microbial resistance, and so on. UV-curable coatings are used on computer screens, keyboards and glass.
Applications
Air assisted airless spray guns offer the best of both worlds; a superior finish to airless with higher material transfer than air spray. You can rely on air assisted airless systems for a consistent, high quality finish.
Air assisted airless paint sprayers are ideal for a wide range of demanding commercial applications, including those that require high levels of production and a finish that offers a high level of corrosion control. The versatile equipment is suitable for use in light, moderate and heavy commercial settings.
Air assisted airless spray painting is used across various industries for wood finishing (spraying and pumping), plastic finishing (pumping), and general metal finishing (spraying). Example applications include epoxy components, fabricated metal parts, pipe and tank coating, and protective coatings on bridges.
Industries
Air assisted airless paint sprayers are suitable for a very wide range of industries. The beauty of the AAA spray gun is that the compressed air added into the spray makes the atomisation more fine. This provides a fine spray pattern and high quality finish, yet retains a fast coverage speed.
The high transfer and increased application speed means that air assisted airless paint spraying is often used for finishing applications within the manufacturing industry; in particular within furniture manufacturing, as the professional fine finish spray is ideal for use with light viscosity, water and solvent-based materials.
These versatile paint sprayers are ideal for use in general metal finishing, wood products manufacturing, architectural trim and molding manufacturing, marine, railroads, trucking, fleets, aerospace finishing, wood and wood products pumps, wood and wood products spray guns, and heavy equipment manufacturing.