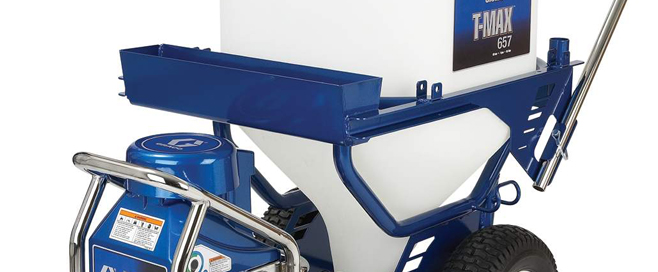 For the small-scale application of masonry, textured paints and textile wall coverings we offer an affordable solution in the Kestrel A7016 Gravity Feed Texture Spray Gun. Featuring an ergonomic trigger, a light yet strong aluminium hopper and supplied with 4mm, 6mm and 8mm nozzles, the spray gun is proven to handle most medium to high viscosity products.

The compact Graco RTX 1500 Textured Coating Spray Unit is designed for the application of water based decorative and texture coatings typically applied to building interiors. The system consists of a Rotoflex™ peristaltic type pumping unit fed with material from an on board 57 litre hopper and atomising air from a built in compressor. The system also features an automatic unloader cylinder which dumps the fluid pressure once the trigger is shut off. This prevents any surge of material when the gun is first triggered so you produce a more consistent finish every time.

Our choice for interior plasters and decorative materials, the Graco T-MAX range isn't another general-purpose spraying machine but a machine specifically designed to apply most interior plasters and fillers. In combination with an external compressor, the T-MAX can also spray textured coatings with aggregates up to 1.5mm. The units have been expertly designed so that one person can use them – they're easy to handle, use and clean thanks to their modular design, with an easily disassembled hopper and the ability to manually disconnect the motor. We supply and support the T-MAX 506 and the larger T-MAX 657, the latter of which enabling you to safely extend your hose length up to 30 meters.

The Graco President 10:1 Heavy Material Spray Unit is the benchmark textured coating spray system and has been for decades. The reliable air operated piston pump is capable of pumping medium to extremely heavy textured exterior coatings used in the decorating industry. The pump is mounted on an elevator which you manually raise to change paint cans and is designed to accommodate either 5 or 10 gallon pails.

For general-purpose sprayers capable of plaster application such as the heavy duty Graco Mark™ V and Wagner PS3.39, please see Electric Airless.
To find out more about Texture Spray Equipment products for hire, you can use our product hire form. Alternatively you can visit Spray Direct to buy products of this type.