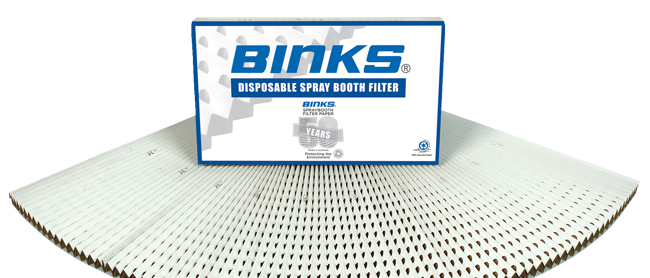 We offer a comprehensive range of spray shop consumables including disposable paper or polypropylene mixing cups, conical paper paint strainers and TAKrags – a pre-paint wiping cloth for the removal of unwanted specks of dust or dirt from the surface of the component being treated.

We sustain customer relationships though offering the complete spray booth solution. We stock Binks' full range of disposable spray booth filters which includes Eco, Standard and Super Filters. Binks' superior designs have established them as the market leading producer around the world. Other spray booth filters we supply include Paint Stop Glass Fibre Filter Media, Air Input Filter Media and Air Input Filter Panels.

Our peelable and tacky booth coatings afford easy cleaning of contaminated surfaces within your paint spray booth, saving you time and money. Maintaining a waterwash spray booth? Our experts are well equipped to advise upon the appropriate water treatment solution. Using the correct denaturant and dosing regime, will increase booth efficiency, which helps to reduce downtime, minimise maintenance costs and eliminate bad odours.

For protective clothing, respirators and handcare, please see Personal Protective Equipment.
To find out more about Spray shop consumables products you can visit Spray Direct to buy products of this type.