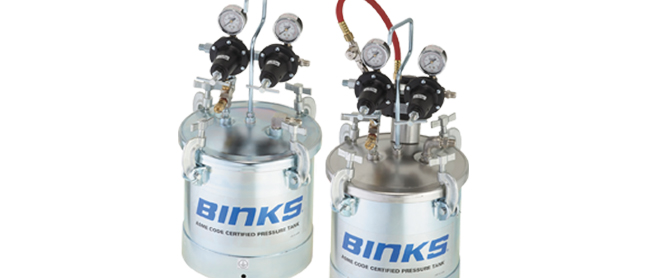 Pressure feed paint containers are used to allow the coating material to be prepared, thinned and conditioned, constantly agitated (if required) and then supplied in bulk to consistently maintain the correct spraying viscosity and pressure. All our models are CE marked and comply with current regulations.

We supply numerous ranges including Binks' and Graco's complete line of pressure tanks which can handle everything from conventional coatings to corrosive fluids. Options include stainless steel or carbon steel vessels, manual or air operated agitation and twin air regulation. For smaller jobs or frequent colour change scenarios, a pressure feed cup such as the DeVilbiss KBII 2 Litre Remote Cup is perfect. Developed to give complete freedom of spray gun and operator movement, the cup can be coupled to either conventional, compliant or High Volume Low Pressure (HVLP) spray guns and is suitable for use with the majority of paints and coatings.

Graco's Triton™ and the DeVilbiss DVP range of diaphragm pumps are an effective alternative solution to traditional pressure pots and standard diaphragm pumps. Unlike pots, there no vessel to depressurise to refill, so downtime is kept to a minimum, plus because they are not pressure vessels they do not require inspection and insurance in accordance with the pressure systems regulations.
To find out more about Air Spray Pumps and Pressure Pots products for hire, you can use our product hire form. Alternatively you can visit Spray Direct to buy products of this type.