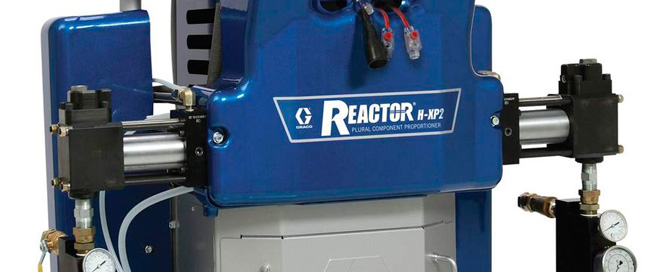 In Graco's Reactor range of Air, Electric and Hydraulic Proportioners, we offer the complete high-performance system designed to apply foam, polyurea and other materials that require accurate temperatures and pressures.

From entry-level models to high-output systems, there's a reactor proportioning system that's perfect for your specific application. Applications include:

• Wall insulation
• Tank and pipe coating
• Roof insulation
• Aerospace
• Concrete joint filling
• Potable water tanks
• Truck bedliners
• Marine and shipbuilding

The advanced features in the Reactor system provide a coating solution designed, with the user in mind, to increase your productivity. Easy-to-use, easy-to-learn system controls reduce training time and digital controls, system diagnostics and auto shutdown features prevent material crossovers.

With reference to future maintenance and service requirements, the Reactor range now comprises fewer parts, features a modular design and quick knock down fluid sections, maximising spray time and minimising costs and time spent on maintenance. With the Probler™ and Fusion® gun range options, you're in control – features including a responsive trigger action, ergonomic handle and balanced design deliver improved productivity with superior mixing capabilities.