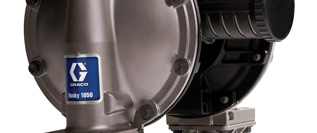 Move material faster and increase your plant's efficiency with our pumping solutions for process industries.

Our range of process equipment includes Piston Pumps, Air-Operated Double Diaphragm Pumps and Ambient, Warm Melt and Hot Melt Supply Systems for low to high viscosity fluids for a variety of aggressive applications.

Our process equipment range extends through to Graco's Hydra-Clean Air-Operated Pressure Washers, ideal for heavy duty cleaning and maintenance for industrial and sanitary applications.