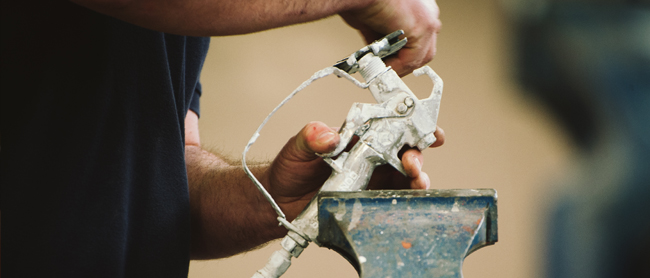 We offer full service and maintenance facilities from our depots throughout the UK. As a service partner for the brands we offer, we can carry out warranty work on behalf of these manufacturers.

Our experienced, trained engineers are able to carry out servicing work at your premises should an unforseen problem arise or regularly, as part of a preventative maintenance contract.
Maintaining your machinery is vital to your company's success and we are here to help you with that. Annual service contracts can be agreed not only for your spray equipment but also spraybooths/rooms and ovens. To limit the disruption to your business, reminders would be sent in plenty of time to arrange a convenient date and time for our engineer to attend site and complete the service.
We also offer Local Exhaust Ventilation (LEV) testing for spraybooths/extraction units. Under current HSE guidline (CSG258) and COSHH Regulations (Chapter 10), LEV systems are expected to be tested at least every 14 months (unless otherwise stipulated). Upon completion we supply a full report and any recommendations for maintaining the optimum performance of your LEV system and, as long as the results meet the Regulation requirements, a certificate will be issued.