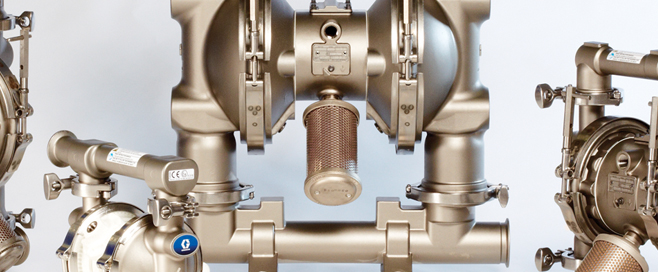 Graco's SaniForce 1040, 1590 and 2150 air-operated diaphragm pumps not only have very high flow rates, but have one of the most durable, reliable and serviceable lube-free air valves in the industry – offering an improved process with reduced downtime.

For materials such as concentrated fruit juices, sauces, pastes and starches, wine, jams, jellies and oils we offer the proven solution for applications requiring high flow rates and portability. Applications include:

• Evacuation of food to mixing kettles
• Transferring from original containers to mixing tanks
• High volume evacuation of liquid concentrates from holding vessels
• Repackaging of fluids from original containers to smaller receptacles
• Feed filling/packaging stations

A key feature of the range, the overmolded diaphragm plate with PTFE on the fluid side and EPDM on the air side has been designed so that there is no place to harbour bacteria. This improves wear, durability and cleanability – making SaniForce diaphragm pumps very easy to clean.

Graco's SaniForce 1590 and 3150 High Sanitation (HS) pumps are ideal for applications that require an electropolished 32 Ra finish and benefit from the convenience of a quick knockdown design. All models are US FDA-compliant and can be disassembled in five minutes or less.