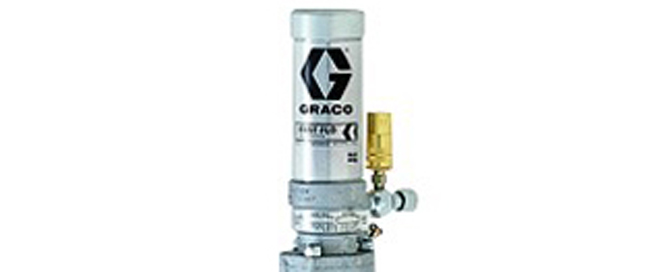 Air-powered for high reliability and low cost, we offer Graco's Fast-Flo 1:1 Transfer Pumps, designed to operate at air input pressures up to 180 psi (12 bar) and deliver a smooth, reliable flow.
Body style

With drum length and stubby models available in either carbon steel or stainless steel construction, the pumps are suitable for a variety of non-corrosive and corrosive materials including oils, inks and colorants. Delivering up to 5 gpm (19 lpm), the Fast-Flo 1:1 is ideal for lower viscosity fluids and features an immersed inlet for faster priming of heavier fluids.

Further Graco piston pumps we supply and support include the King 24:1 Transfer Pump – one of the most reliable priming piston ink pumps in the industry –, the President 20:1, the Senator 19:1 Transfer Pump, and the Viscount II 1200 and 3100 Hydraulic Piston Pumps.